Variety of voting booths, stickers, boxes, etc.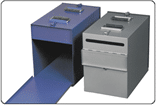 Ballot Boxes – One end has ballot slot opening for ballot depositing. It has a hinged flap to cover the slot and may be locked at cessation of voting. The other end has a hinged door that allows easy access to all ballots by voting officials. Containers can be easily stacked for storage.
Read the Ready Vote Brochure Here (Opens in New Window) 
Voting Booths – With the Select Duo voting booth you get two voting booths for the price of one! The innovative design (patent pending) of the Select Duo allows you to set up the voting stations in a variety of different orientations to meet the needs of your voting loc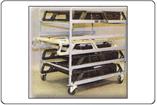 Rak-n-Roll – The Rak-n-Roll is a heavy duty, light weight, compact and mobile solution to your ES&S iVotronic storage dilemma.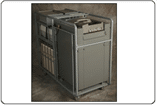 Read the Auto-Kart Lift Brochure Here (Opens in New Window)
Auto-Kart – The AutoKart reduces the necessity of of lifting an AutoMart, precinct ballot scanner and ballot box from up to eleven times to just one time. That one time is when the equipment is received from the manufacturer at the warehouse.